SHAPEPAK10 - "Shapewear Package" - All Popular Styles!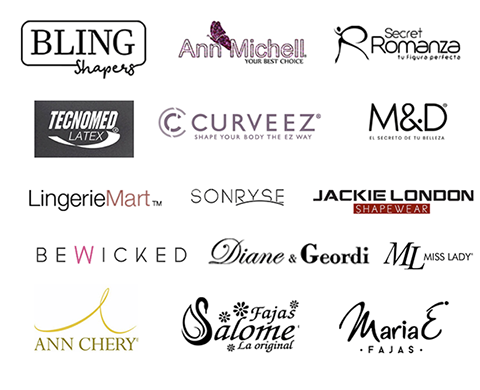 Style: SHAPEPAK10
Item: SHAPEPAK10 - "Shapewear Package" - Includes Waist Trainers, Fajas, Powernet, Logo Free and More!
Colors: Assorted
Sizes: Assorted – sizes range from S-6XL (the larger the package the larger the assortment and sizes of styles)
Description: The Shapewear / Bodyshaper category has become one of the top fastest growing classifications in all intimate apparel. Fabrics used today are nothing like years past. Shapewear has now become the new essential must have garment for any woman. At Lingerie Mart, we realize this potential and offer over 20 top selling name shapewear brands. We fully stock these top selling Colombian name brands in our SHAPEPAK10 just to name a few - Jackie London, Curveez, Ann Michell, Ann Chery, Bling, Sonryse, Maria E Fajas, Salome, Be Wicked, LM Logo Free many more! All types of compression from firm to light control. Items include shapewear designed for curvy girls, latex and powernet waist trainers, all in one bodyshapers, hi-waist bodyshapers, post surgical shapewear (all stages 1-3), post maternity shapewear, bridal shapewear and much more. All of our products represented we sell are top selling name brands with a long heritage of quality and fit.
Please note our SHAPEPAK10 package can be made to include just one type of shapewear classification, i.e. you prefer bodyshapers only, no waist trainers or vice versa. Or just one particular brand. Just let us know when you check out in the comments field of the shopping cart.
Decide what dollar amount you want to spend and we will do the rest. Every SHAPEPAK10 is uniquely different as we prepare the packages as we receive your order. You will generally receive 1-2 pieces of each style depending on your total package amount. The price point for each style is listed on the website. For example, if the average wholesale price of our average SHAPEPAK10 item is $15.00-$30.00+/-, in a $300.00 minimum package, for example, you can receive approximately 14+/- units (generally 1-2 pieces of each style depending on the cost of the package. Please note - the larger the dollar amount of your package, the larger the variety of SHAPEPAK10 products you will receive. Your order will consist of a variety of SHAPEPAK10 styles at different price points, so this number may alter depending on your total package amount ordered. Your invoice will specify each style by price and with a detailed description of each item in the package.
Suggested manufacturer retail price for each item is $40.00 - $120.00
Each SHAPEPAK10 style comes in a colorful display box/ OR package exactly as received from the factory. All merchandise is brand new, 1st quality.
Another excellent value from Lingerie Mart.