THONGPAK10 - "Assorted Thong & G-String Package" - # 1 Seller!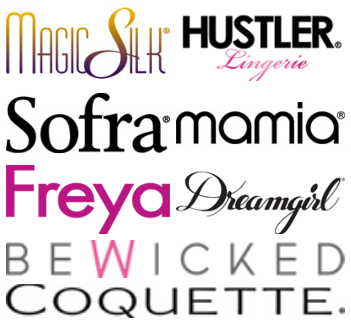 Style: THONGPAK10
Item: THONGPAK10 - 'All Thongs Package" – Assorted Styles
Colors: Assorted Colors and Prints
Sizes: Assorted from Small - 4XL (see drop down for size selections)
Description: THONGPAK10 - A super popular #1 selling package for over 25 years! Our famous THONGSPAK10 package is excellent for any lingerie store or related type business. THONGS AND G-STRINGS sell year round - there are always in demand any time the year. Thongs and G-strings are a must have item in every women's dresser drawer. Our THONGPAK10 package offers many of our top selling name brand styles like Be Wicked, Freya, Sofra, Mamia, Magic Silk/Exposed, Coquette, Dreamgirl, Hustler, Music Legs and many more. Types of thongs in the THONGPAK10 will include several types of the following: Thongs, G-Strings, Low-Rise Thongs, Hi-Rise Thongs, Tanga Thongs, Sexy Thongs, Basic Thongs, Fun/Novelty Thongs, Casual Thongs, Everyday Wear Thongs, Microfiber Thongs, Solid Color Thongs, Print Thongs, Plus Size Thongs and more. All thongs will come in the sizes you desire - simply order via the drop down choice - it's all here! Shown above are examples of the types of styles you can expect in your THONGPAK10.
Decide what dollar amount you want to spend and we will do the rest. Every THONGPAK10 is uniquely different as we prepare the packages as we receive your order. You will generally receive 2-4 pieces of each style depending on your total package amount. The price point for each style is listed on the website. For example, if the average wholesale price of our average PANTYPAK item is $2.50-$5.00+/-, in a $300.00 minimum package, for example, you can receive approximately 80/- units (generally 2-4 pieces of each style depending on the cost of the package. Please note - the larger the dollar amount of your package, the larger the variety of THONGPAK10 products you will receive. Your order will consist of a variety of THONGPAK10 styles at different price points, so this number may alter depending on your total package amount ordered. Your invoice will specify each style by price and with a detailed description of each item in the package.
Suggested manufacturer retail price for each item is $15.00 - $40.00
Each panty style will come either in a colorful display box featuring sexy model, separate by itself, or on hanger. All thongs and G-strings come with all hang tags and retail tickets attached as received from the factory. All merchandise is brand new, 1st quality.
Another excellent value from Lingerie Mart.