Lingerie Mart Atlanta Warehouse
Open To The Public Every Day Monday - Saturday!
The Lingerie Mart warehouse is located in Alpharetta, Georgia USA (in the north suburbs of Atlanta, Georgia). Since 1997, our main distribution and Alpharetta warehouse are open to the public for both wholesale and retail customers every day, except Sunday. If you have never been to the Lingerie Mart warehouse in Alpharetta Georgia, you are in for a treat. Prepare to spend 1-3 hours (longer if buying wholesale) going through aisle after aisle of name-brand discounted lingerie. We sell all types of famous maker lingerie including name brands and even some not-so-famous name brands. The savings and massive selection are unlike any lingerie store/warehouse you have ever walked in. We sell 1,000's different styles of famous maker bras, panties, boy shorts, sexy lingerie, romantic bedroom costumes, fetish lingerie, sex toys, bridal, plus sizes, clubwear/dancewear, and more. We even sell shapewear, waist trainers, and fajas in large sizes as well as full-figure bras all the way to 60P cups.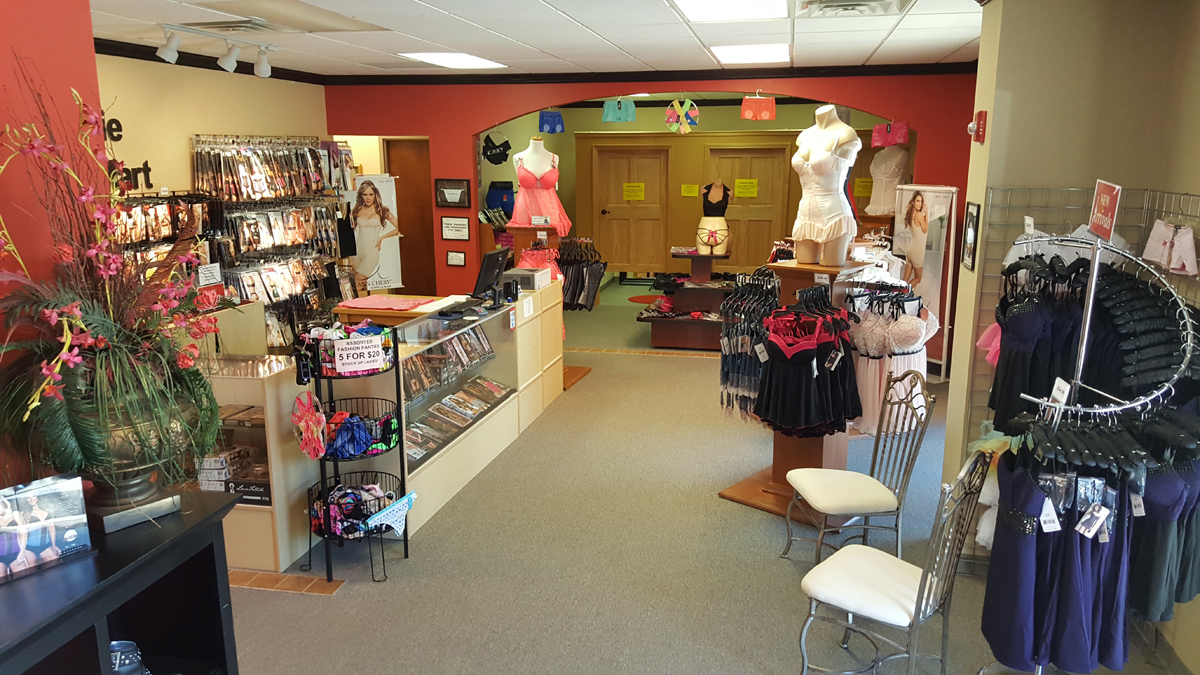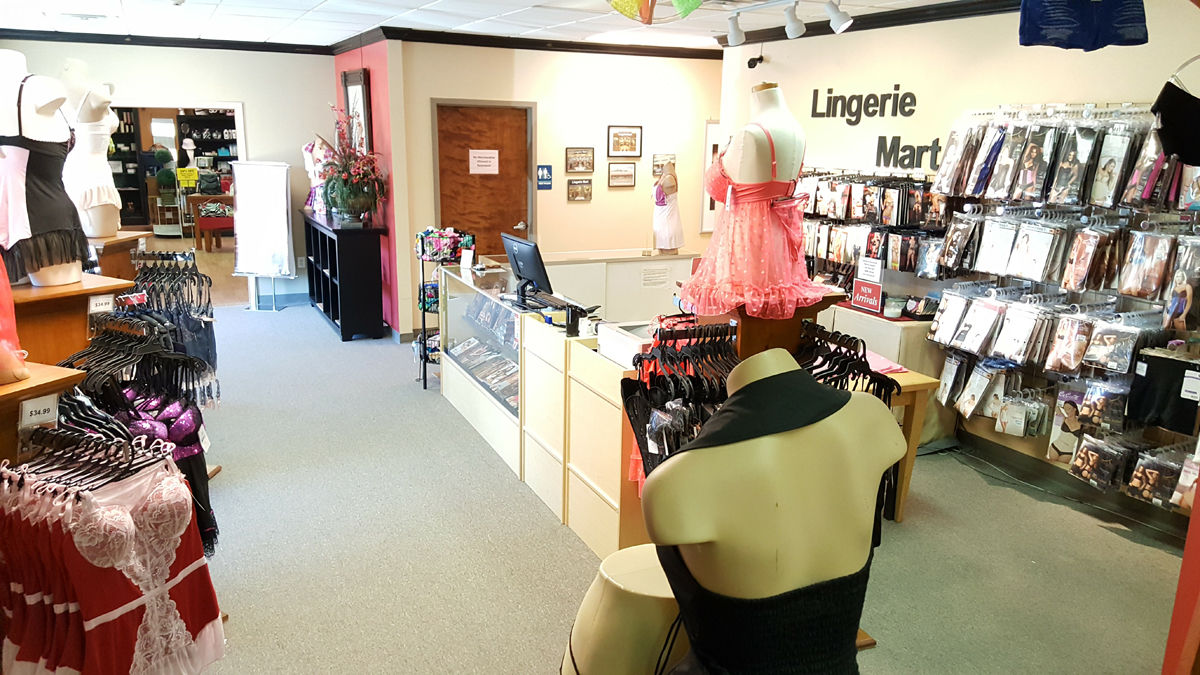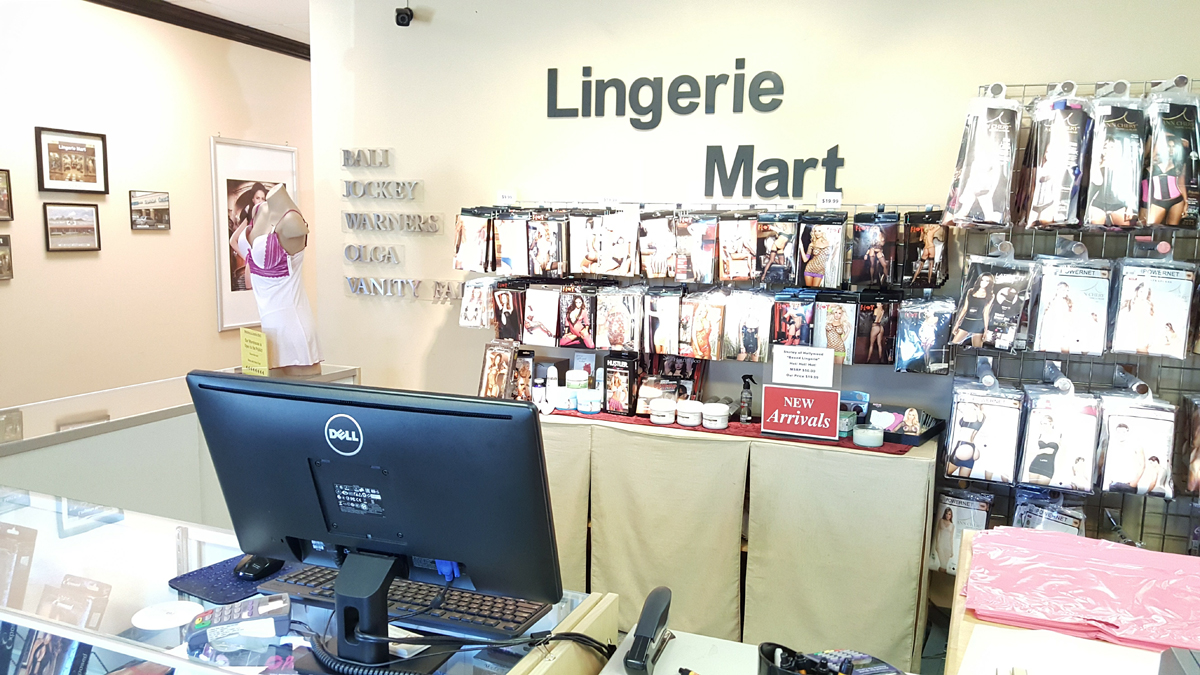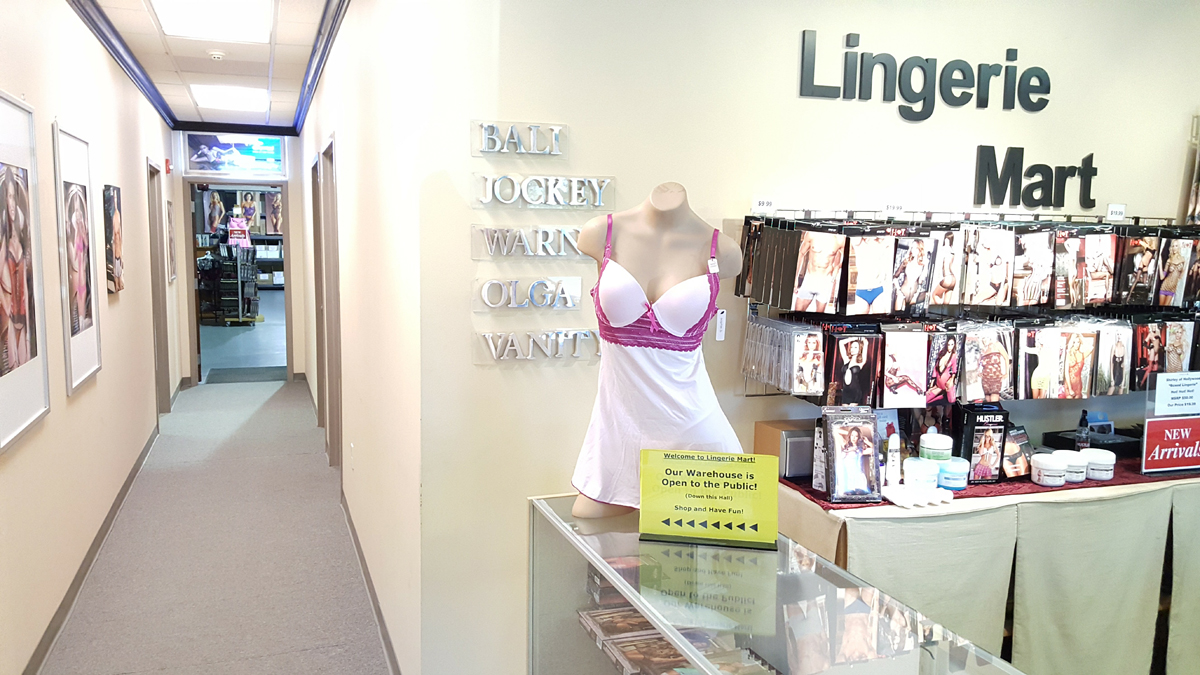 Lingerie Mart. Like no other store in the world since 1997!
Lingerie Mart is open to the general public. That means everybody is welcome and can shop here. We sell everything from mild to wild and are open minded to every type of life style. You can buy as little as 1 piece at the lowest retail price you will find anywhere. Our retail prices are a fraction of what you would pay for at the mall stores. Anyone can shop the warehouse and buy just 1 item at the retail price. For larger wholesale purchases, the minimal purchase when buying in person within the warehouse is $400.00 and a minimum of 3 pieces per style. However, on-line wholesale minimal is just $250.00.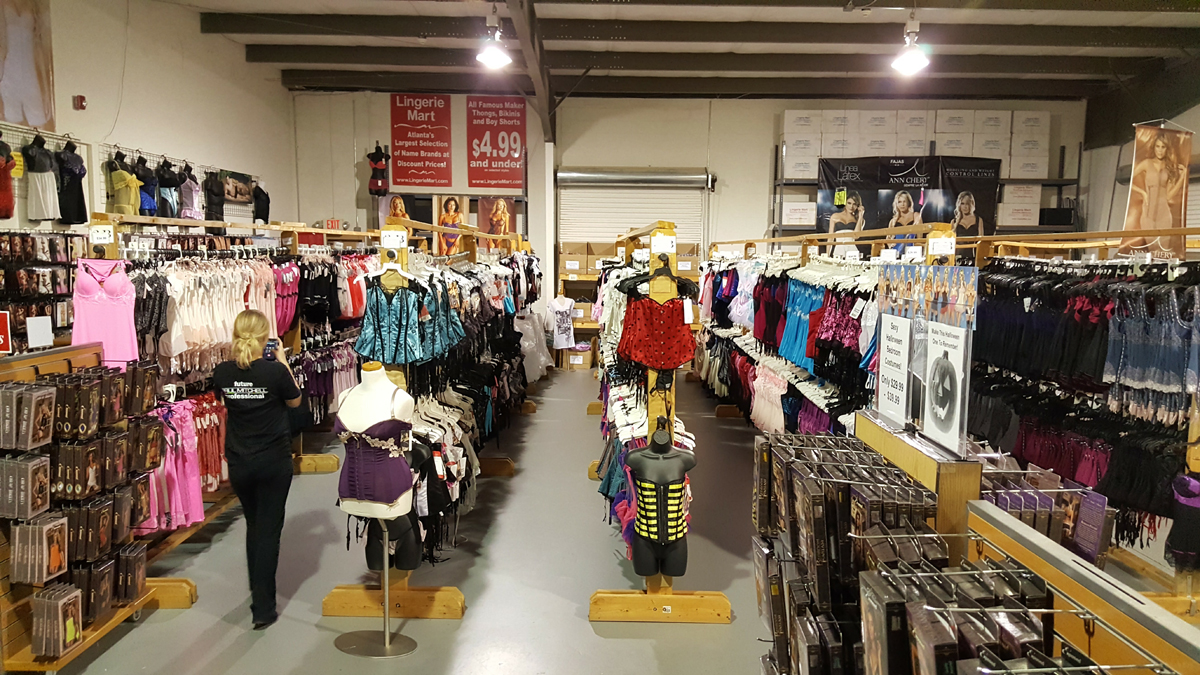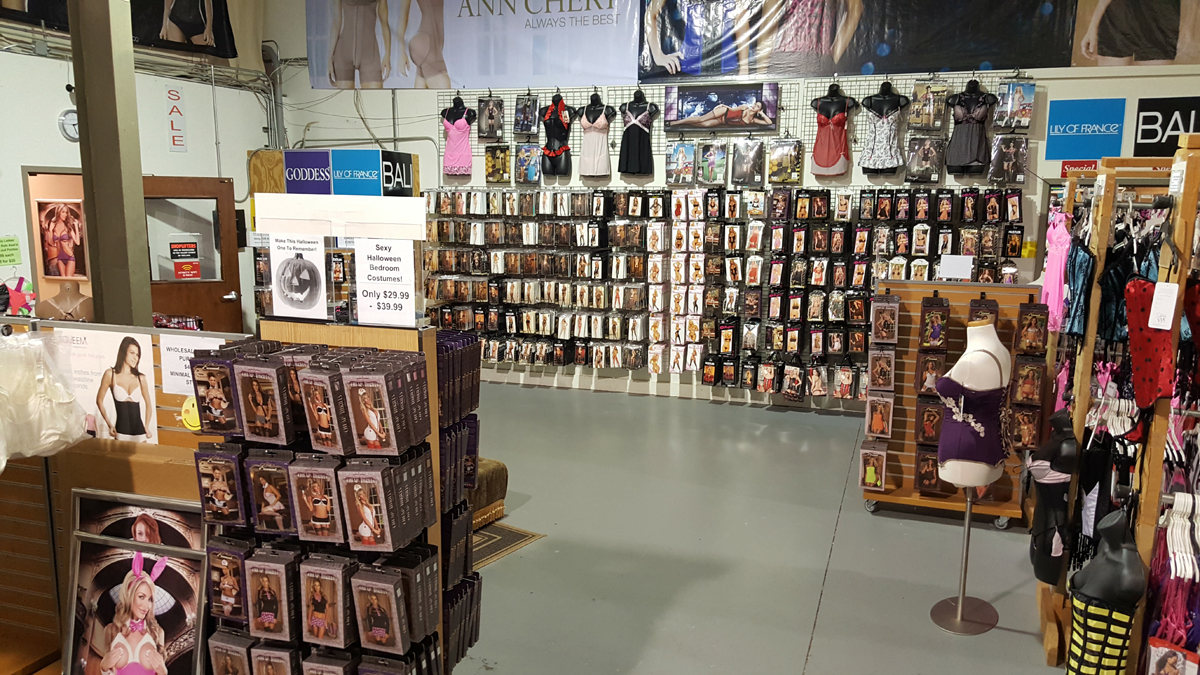 We are located at 5930 Gateway Drive off of Hwy. 9 (Atlanta Highway). On Atlanta Highway turn at the Mr. Tire sign and we will be on the left in the very back of the cul de sac. There is plenty of parking in the front and on the sides of the warehouse. We regularly have busloads of customers coming in from all parts of the south. Bus drivers please contact us you heading our way so we can plan on having shopping carts and buggies ready for your passengers. There is ample parking for all Class "A" motor coaches, as well as other sizes of commercial passenger buses.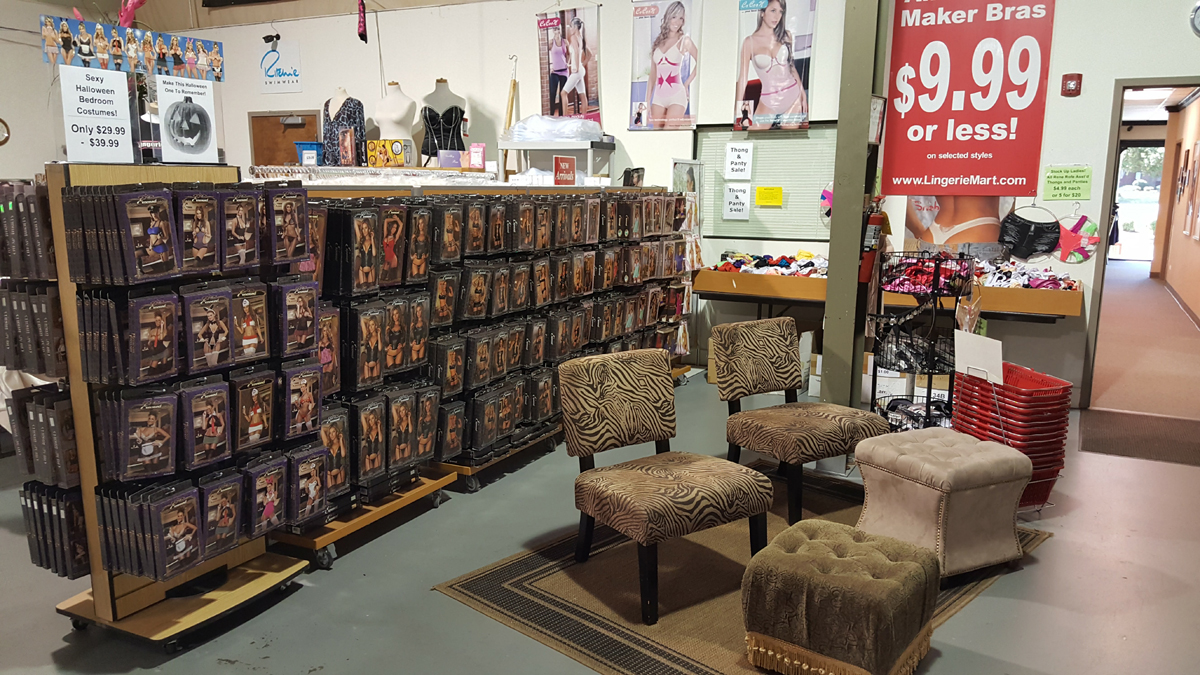 Our massive warehouse is one you can't miss. Convenient and discreet parking on side of the warehouse if so desired. Main Alpharetta Warehouse Location: We are located at Exit 12B-West and Georgia 400 - McFarland Parkway Exit 12B. Coming north on 400, exit at #12B- West. Go approximately 2.5 miles. Turn right onto Atlanta Highway (Highway 9). Proceed approx. 1/3 mile north on Hwy 9 / Atlanta Hwy. You will pass the Dunkin Donuts (on left) and then Mr. Tire on your right. Turn right at the Mr. Tire to Gateway Drive. We are at 5930 Gateway Drive on your left-hand side. If you are coming south on Atlanta Highway (Hwy 9), the closest intersection is Hwy 9 / Francis Road. Proceed south just a bit until you see World Beverage on your left. Turn left at Gateway Drive. We are located on the left-hand side in a large light yellow warehouse with black letters on outside "Lingerie Mart".
**********************************************
Physical Address:
Lingerie Mart
Main Alpharetta Warehouse and Distribution Center
5930 Gateway Drive, Alpharetta GA 30004 USA
Telephone: 770-752-1989
Hours of Operation:
Monday - Friday 10:00 AM - 5:00 PM
Saturdays - 11:00 AM - 3:00 PM
Sundays - Closed

Celebrating 26 Years in Business!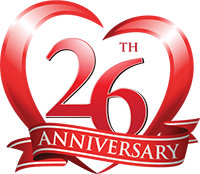 Email: [email protected]
Español Customer Service Representative
(Para obtener mayor información en Español ud puede contactar a Patricia y con gusto le ayudaran)
Español Retail and Wholesale Sales - Send Email "Attn: Ms. Patricia"
***********************************************
Come inside and visit us. You are now entering the main warehouse. Note the many rows of brand-new fresh merchandise direct from the factories.
All styles are clearly marked by size and price. Truckloads of new styles arrive every day at Lingerie Mart!