PLSPAK10 - 'Plus Size' Lingerie Package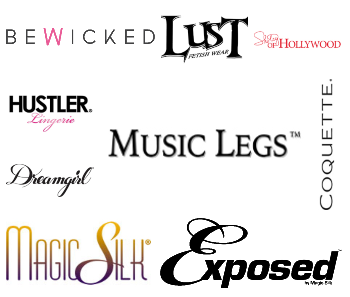 Style: PLSPAK10
Item: PLSPAK10 - 'Plus Size' Lingerie Package – Assorted Styles
Colors: Assorted
Sizes: Assorted from 1XL-4XL (see drop down for size selections)
Description: Our most popular #1 selling package for over 25 years! Our PLSPAK10 features the industry's top selling name brand QUEEN SIZE lingerie including Magic Silk, Exposed, Lust Fetish, Be Wicked, Music Legs, Dreamgirl, Shirley of Hollywood, Hustler and many more! These styles are the world famous name brands recognized by women for their top quality and exceptional fit. Our top selling PLSPAK10 package focuses on SEXY and CLASSY queen size lingerie that is both fashion forward and trend-setting. PLSPAK10 will focus solely on current name brand QUEEN SIZE sexy lingerie as seen on our website. Each PLSPAK10 will include a beautiful variety of styles, designs and manufacturers. Every woman of any size wants to look and feel more sexy. Plus, men love buying sexy lingerie for women. Expect higher sales volumes during the months when there is any major holiday. New Year's, Valentines Day, Christmas, 4th of July just to name a few. Let's not forget about the birthdays, romantic vacation get-a-ways, or just to surprise that special someone after a hard day's work. Sex always sells! Shown above are images of just a few of the popular queen size styles to give you an idea of the type of products you can receive in this package.
Decide what dollar amount you want to spend and we will do the rest. Every PLSPAK10 is uniquely different as we prepare the packages as we receive your order. You will generally receive 1-2 pieces of each style depending on your total package amount. The price point for each style is listed on the website. For example, if the average wholesale price of our average SEXY lingerie item is $12.00-$16.00+/-, in a $300.00 minimum package, for example, you can receive approximately 22+/- units (generally 1-3 pieces of each style depending on the cost of the package. Please note - the larger the dollar amount of your package, the larger the variety of QUEEN SIZE SEXY lingerie you will receive. Your order will consist of a variety of QUEEN SIZE SEXY lingerie styles at different price points, so this number may alter depending on your total package amount ordered. Your invoice will specify each style by price and with a detailed description of each item in the package.
Suggested manufacturer retail price for each item is $30.00 - $75.00
Each lingerie style comes in a colorful display box featuring sexy model, or on hanger with all hang tags and retail tickets attached as received from the factory. All merchandise is brand new, 1st quality.
Another excellent value from Lingerie Mart.